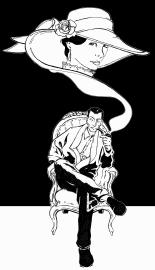 [This show has already been cast; this page is retained for archival purposes only.]
Auditions: Monday, May 15th, and Tuesday, May 16th, 2017
at Responsible Grace Church in Davis Square, Somerville.
(three hourlong slots each night at 7:00, 8:00, and 9:00pm)
Callbacks, if needed, will be Thursday, May 18th.
Performances: Performances will run from July 14-22 at Responsible Grace Church.
---
Join us this Summer as we present two intriguing mysteries: Charlotte Dupin in a gender-swapped adaptation of Edgar Allan Poe's "the Murders in the Rue Morgue" and Sherlock Holmes in Arthur Conan Doyle's "A Scandal in Bohemia". Performances will run from July 14-22 at Responsible Grace Church.
(The roles of Holmes and Watson in "A Scandal in Bohemia" are pre-cast; all other roles are open.)
There are several types of positions available in the show: from on-stage acting, to live sound effects to crucial behind-the-scenes positions. Read on to find out more and then click here to sign up for an audition slot.
PLEASE NOTE: The Post-Meridian Radio Players is a community theater group and is run by volunteers. Our performers are not paid.
---
How to Audition
Click here to sign up for an audition appointment, fill out the form, and submit it.
If you have submitted the form correctly and one of the time slots you requested is still available, you will get email confirming your audition appointment. (This is sent by a human being who has a day job, so don't worry if it doesn't come right away. But if it doesn't come within a day or so, contact us at auditions@pmrp.org. You can also use that address to contact us if you have trouble submitting the form.)
Then go to our audition documents folder on Google Drive. There you will find a paper audition form and rehearsal availability grid which you should print out, fill out, and bring with you to your audition. (If you forget, we'll have spares for you to fill out at the audition.)
You'll also find audition sides for both segments, which include lists with descriptions of the available roles. You'll want to look over the list of roles and decide which ones you're most interested in, and look over (and perhaps practice) the sides before your audition.
Then, show up for your audition at the scheduled time! Good luck and have fun!
Some Things to Know
The audition process involves one form that you fill out online (the appointment form) and two paper forms (not available just yet) which you should print out, complete, and bring with you to the audition. They're not interchangeable.
If you show up for an audition without the paper forms (or the sides), we'll probably have a few extra copies printed out and you can fill out the forms there. However, it saves time and trouble and makes the process go more smoothly if you can bring completed forms with you. (It also helps demonstrate to the directors how responsible and resourceful you are!)
Walk-ins are welcome, but people with appointments will take priority. If there are no-shows during a given hour, we will fill those slots with walk-ins. Any remaining walk-ins will be auditioned at 10pm. It helps the directors tremendously if you sign up in advance, though.
Foley Artists (Live Sound Effects)
If you're interested in being a Foley performer and making the live sound effects, there will be a Foley interview at the time of your audition slot. You can absolutely both audition for a voice role and express interest in being a Foley artist (although you can only do one or the other, since voice actors and Foley artists are performing simultaneously). Just let us know on your form what roles and/or positions you want to be considered for.
Location
Responsible Grace
204 Elm Street
Somerville, MA
View Responsible Grace on a larger map