Performances: April 17, 18, 23, 24, and 25, 2020.
(8pm performances on all dates, plus a 2pm matinée on Saturday the 18th. Thursday the 23d is pay-what-you-can night.)
Performances will be later this year or next year. Dates are to be announced.
Location: Boston Brunch Church, 204 Elm Street, Somerville (subject to possible change).
---
This show has been postponed due to the ongoing COVID-19 pandemic. We will be performing it at a later date (perhaps later this year, or perhaps next year). We're sorry for the inconvenience and we hope you look forward to coming to the show when we perform it.
The Post-Meridian Radio Players are proud to announce our Spring upcoming show, "Plan 9 from Outer Space" with an original prequel fiasco, "Plan 8 from the Outer Ether"!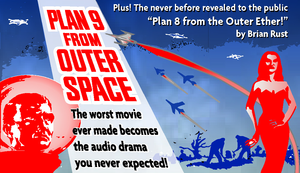 Plan 9 from Outer Space is an original adaptation by Michael McAfee of the classic "so bad it's good" film by Ed Wood, in which extraterrestrials reanimate Eartlhings' dead bodies.
Plan 8 From the Outer Ether: a Steampunk Fiasco, is a comedy about a dysfunctional theater troupe attempting to put on a live radio play. The play they're performing, Plan 8, is a prequel to the events in "Plan 9 From Outer Space", set roughly 50 years prior to the other show.

---
Plan 9 from Outer Space
Adapted by Michael McAfee from the infamous 1959 film by Ed Wood
Directed by Michael McAfee
Criswell
.....
Paul Springer
Jeff/Gen. Roberts
.....
Alex LaFreniere
Paula/Mourner 1
.....
Cici Cadeaux
Lt. Harper/Gravedigger 2
.....
Cari Keebaugh
Larry/Ruler
.....
Brian Edgar
Kelton/Captain
.....
Joel Priest
Clay/Mourner 2
.....
Catherine Quintana
Eros/Bela
.....
Leo Balkovetz
Tanna/Vampira
.....
Katie Meyers
Col. Edwards/Gravedigger 1
.....
Livie Keane
Foley
.....
Meg Wickham
Santiago Rivas
Mare Freed (understudy)
---
Plan 8 from the Outer Ether: A Steampunk Fiasco
Written by Brian Rust
Directed by Brian Rust and Jeremy Holstein
Narrator
.....
Sarah Parisi Boçi
Auteur
.....
Elizabeth Ross
Detective
.....
Keegan Hannon
Cardiff
.....
Juliet Wyse
Riley
.....
Kevin Kordis
Illuminus
.....
Phillip Pierre-Lewis
Zandex
.....
Kitty Drexel
Mendos
.....
Hannah Baker
Lawyer
.....
Laura Corliss
Foley
.....
Stacie "Red" Stone
Tori Queeno
---
Crew

Producers
.....
Mare Freed
Karen Sarao
Stage Manager
.....
Samantha Blasbalg
House Manager
.....
Alisia Waller
Foley Coordinator
.....
Simone Agha
Sound Design
.....
Paul Springer
Sound Engineer
.....
Jay Sekora
Sound Board Operator
.....
Sidney Hackney
Graphic Designer
.....
Jeremy Holstein
Publicity
.....
TBA
---
Performance Dates
Performance dates are to be determined, and will be later this year or next year.
---
Location
(subject to possible change)
Boston Brunch Church
(formerly Responsible Grace)
204 Elm Street
Somerville, MA

View Boston Brunch Church on a larger map