Red Shift: Interplanetary Do-Gooder
in
Havoc Over Holowood!
---
Wednesday, January 23rd, 2008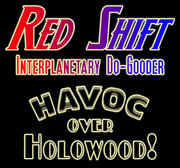 It's go time! THE POST-MERIDIAN RADIO PLAYERS return to Boston's largest sci-fi convention with another live episode of their original sci-fi comedy, which both parodies and pays homage to the pulp sci-fi serials of the 1930s and 40s. Join Red, Lumpy, Doctor Alberts and Penny Parker, Girl Reporter as they try to save a beloved space celebrity from his worst nightmare: angry fans with atomic weaponry!
THE POST-MERIDIAN RADIO PLAYERS performed live for the third year in a row at Arisia, Boston's largest science-fiction convention, on January 20th.  This year's show saw the return of Michael McAfee, Josh Nicholson, Rob Noyes, Renée Johnson, Gilly Rosenthol and the rest of the Red Shift ensemble in another exciting adventure, sponsored by Cosmo Flakes!
---
Havoc Over Holowood: Episode 1
(128kbps IQ; running Time: 33:13)
Right-click here to download instead  (30MB)
Havoc Over Holowood: Episode 2 (128kbps IQ; running Time: 43:27)
Right-click here to download instead  (40MB)

---
Cast
Red Shift
.....
Michael McAfee
Lumpy
.....
Josh Nicholson
Penny Parker
.....
Renée Johnson
Dr. Alberts
.....
Rob Noyes
Narrator
.....
Gilly Rosenthol
JetPack Jones/
Arthur Cogznowski
.....
Michael Simon
Femme Fatalia/
Henrietta Nilconk
.....
Juliet Bowler
Tour Guide
.....
Joye Thaller
Spetacosians
.....
Mare Freed
Julia Lunetta
Brian Rust
Christian Sterling
Crew
Director
.....
Rob Noyes
Producer
.....
Renée Johnson
Technical Director/
Sound Designer
.....
Neil Marsh
Creator/Head Writer
.....
Rob Noyes
Writing Team
.....
Pete Goodrich
Michael McAfee
Brian Rust
Music Attributions
Red Shift Theme Music
.....
Ruler of the Spirits
by Carl Maria von Weber (1819)
Performed by the Berlin Philharmonic Orchestra
Conducted by Herbert von Karajan
Additional Music
.....
In the Limelightby David Lindup
Shopping Spree by Laurie Johnson