---
The Post-Meridian Radio Players are proud to announce our Halloween show, "Plan 9 from Outer Space" with an original prequel fiasco, "Plan 8 from the Outer Ether"!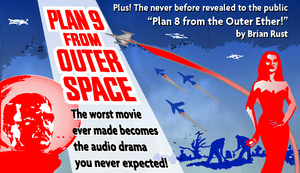 Plan 9 from Outer Space is an original adaptation by Michael McAfee of the classic "so bad it's good" film by Ed Wood, in which extraterrestrials reanimate Eartlhings' dead bodies.
Plan 8 From the Outer Ether: a Steampunk Fiasco, is a comedy about a dysfunctional theater troupe attempting to put on a live radio play. The play they're performing, Plan 8, is a prequel to the events in "Plan 9 From Outer Space", set roughly 50 years prior to the other show.

---
Cast
---
Plan 9 from Outer Space
Adapted by Michael McAfee from the infamous 1959 film by Ed Wood
Directed by Jess Viator
| | | |
| --- | --- | --- |
| Criswell | ..... | Paul Springer |
| Gen. Roberts / Gravedigger 2 | ..... | Richard Bartlett |
| Jeff | ..... | Matthew Slepin |
| Paula / Mourner 1 | ..... | Kate Mahoney |
| Lt. Harper | ..... | Cari Keebaugh |
| Larry / Ruler | ..... | Brian Edgar |
| Kelton / Captain | ..... | Joel Priest |
| Clay / Mourner 2 | ..... | Emma Joyce |
| Eros / Bela | ..... | Leo Balkovetz |
| Tanna / Vampira | ..... | Katie Meyers |
| Col. Edwards / Gravedigger 1 | ..... | Livie Keane |
| Foley Captain | ..... | Keisha Warriner |
| Foley Artist | ..... | Simone Agha |
| Foley Artist | ..... | Scott T Hickey |
---
Plan 8 from the Outer Ether: A Steampunk Fiasco
Written by Brian Rust
Directed by Brian Rust and Jeremy Holstein
| | | |
| --- | --- | --- |
| Narrator | ..... | Joev Dubach |
| Auteur | ..... | Elizabeth Ross |
| Detective | ..... | Keegan Hannon |
| Cardiff | ..... | Juliet Wyse |
| Riley | ..... | Kevin Kordis |
| Illuminus | ..... | Phillip Pierre-Louis |
| Zandex | ..... | Kitty Drexel |
| Mendos | ..... | Hannah Baker |
| Lawyer | ..... | Marissa Kennedy |
| Belle | ..... | Rachel Tessler |
| Foley Captain | ..... | Tori Queeno |
| Foley Artist | ..... | Stacie "Red" Stone |
---
Crew
---
Stage Manager
.....
Jamie Lin
Producers
.....
Karen Sarao
Mare Freed
House Manager
.....
Mare Freed
Sound Designer
.....
Grace Gist
Sound Board Operator
.....
Sidney Hackney
Sound Engineer
.....
Jay Sekora
Publicity Manager
.....
Tori Queeno
Graphic Designer
.....
Jeremy Holstein
Assistant Graphic Designer
.....
Sarah Stone-Booth
---
Performance Dates
Thursday, October 28, 8pm
Friday, October 29, 8pm
Saturday, October 30, 2pm (matinée)
Saturday, October 30, 8pm (evening)
---
Location
Boston Brunch Church
(formerly Responsible Grace)
204 Elm Street
Somerville, MA
View Boston Brunch Church on a larger map