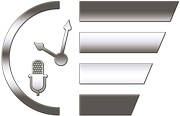 Founded in 2005 and based in the Boston area, The Post-Meridian Radio Players are a group of actors, writers, FoleyFX artists, composers, sound designers and other interested people dedicated to the preservation of radio drama, and the development of audio theater, as unique art forms. They offer live performances and studio productions of both classic tales from the Golden Age of Radio and original works by new and experienced writers, with a special emphasis on science-fiction, fantasy, and horror.
PMRP is now (along with our sibling group Theatre@First) under the umbrella of the Massachusetts Community Theatre Corporation (MCTC, which we generally pronounce "Mitsy"), a 501(c)(3) nonprofit organization.
PMRP has performed in venues ranging from local churches to vintage movie houses to the city's 3000-seat Orpheum Theatre. They've also performed at Arisia—Boston's largest science-fiction convention—every year since 2006. They've produced recreations of classic radio shows, such as Fibber McGee & Molly, Suspense! and a Boston-based version of Orson Welles' War of the Worlds broadcast. Adaptations of classic stories include The Tell-tale Heart, The Legend of Sleepy Hollow, and The Hound of the Baskervilles, as well as adaptations of popular sci-fi films such as The Day the Earth Stood Still and THEM! PMRP's original productions include their sci-fi comedy series Red Shift: Interplanetary Do-Gooder and the Parsec Award-winning studio production The Mask of Inanna.