In addition to our live shows The Post-Meridian Radio Players also produces content in the studio. This program, called PMRP Presents! Is proud to present a large range of audio drama for your listening pleasure.
In Production

The Duke of Newbury Street
The setting is Boston, just before America enters WWII. Cat burglar extraordinaire, Cleo Carmel, is hired by mysterious agents to rob the home of reclusive millionaire, Alexander Endicott. However, things don't go quite as planned . . . The three thrilling episodes of The Duke of Newbury Street will be released on April 11, 18, and 25, 2016.
---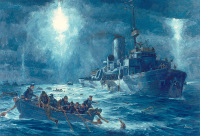 The Four Chaplains
The Four Chaplains is a historical drama representing the real-life sinking of the USAT Dorcester during World War II. After being struck by a torpedo, four chaplains that were on board helped evacuate the ship eventually giving their lives to save others.
PMRP is proud to present their story of cooperation, empathy and sacrifice.
---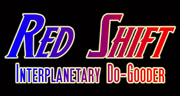 It's go time!
Join Interplanetary Do-Gooder Red Shift and the crew of the Recalcitrant, stalwart defender of truth, justice and obscure pop culture references, as they seek to right wrongs throughout the galaxy.
Red Shift has been performed both at the Arisia scifi convention as well as PMRP shows such as The Spring Scifi Spectacular 2.
You can purchase the "Havoc over Holowood" adventure here or on CD at our merch table at live shows.


---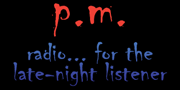 p.m.: radio... for the late-night listener
In the tradition of programs such as Lights Out! and Nightfall, PMRP presents a program for those of you who prefer your entertainment during the... later hours of the day. A series of short plays to thrill, chill or just entertain you before turning out the lamp and sleeping. If you can.
---
Completed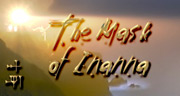 ...And the world grows a little darker.
PMRP's Parsec Award-winning series The Mask of Inanna tells the story a 1950's radio-horror host brought out of retirement by a mysterious organization to finish broadcasting the unaired episodes of his long-cancelled show woven in with the episodes of that show.
Two full seasons of episodes are available to purchase here or listen here.

---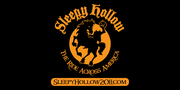 Sleepy Hollow: The Ride Across America
For Halloween of 2011 four radio drama groups across the United States, including PMRP, were united in presenting four different versions of Washington Irving's classic tale The Legend of Sleepy Hollow. The tales ranged from the silly to the serious and raced anywhere from the 18th century to modern times. In addition to our page about the project, it has its own dedicated web site at www.sleepyhollow2011.com.